/?php the_meta(); ?>
Earning from affiliate marketing is on my favourite ways to earn passive money and coupon and cashback website still tops my list. The best part of Coupon business is the ratio of investment to its returns.
If you have good targeted traffic, you can easily earn near 250% of what you invest year on year.
To start a Coupon Website you need to buy a domain, a hosting, and a good Coupon Theme. So the initial investment is less than two hundred dollars.
But after a year of good marketing strategies, you should easily be making at least $500 a month. I even know a few coupon website owners who left their full-time jobs after starting a their website.
But the main thing your visitors got engage upon visiting your website your frontend or coupon theme. So your theme should be feature-rich and extremely flexible – so that you don't have to change it as you grow.
So today I have come up with this theme called ClipMyDeals.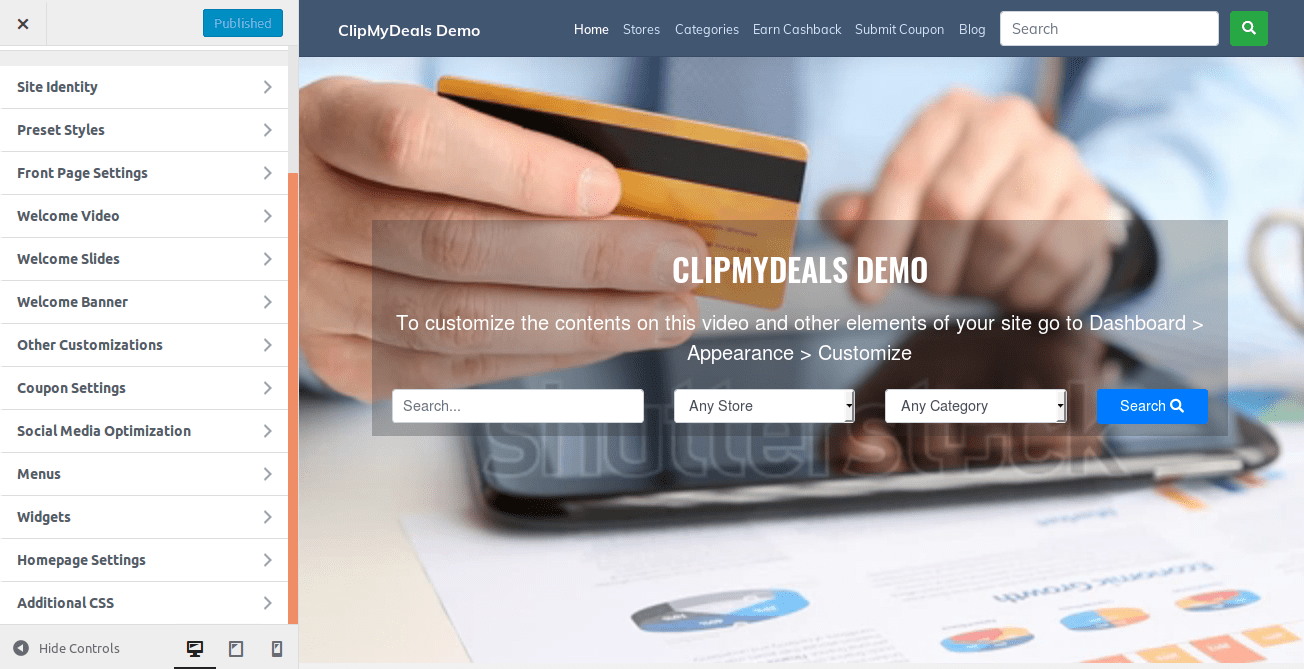 ClipMyDeals is a 100% WordPress compliant theme. It comes with plenty of design customization options and all the plug-n-play powers of WordPress.
It is a Coupon Theme which has been designed & developed by team of Affiliate Marketing experts. It is based on their real-world experience of running coupon websites since 7+ years.
They knew what a new coupon website needs and what needs to be done as the traffic increases. And so, they packed all that in this theme for you!
As such, ClipMyDeals comes with all the necessary features needed to run a coupon website. Other functionalities can be added with the use of WordPress Plugins.
If you still need to add something special, then you can create a child theme. Creating a child theme you can customise your website to a extend where everything is possible.
The theme is designed magnificently to minimize coding and automate the process that's the reason it is one of the top coupon themes. You can install the theme yourself within minutes installation is very simple and well documented with the Video tutorial.
ClipMyDeals is designed with its great distinctive features with coupon feeds, a white-labelled mobile app, eight custom widgets and four different layouts for displaying coupons.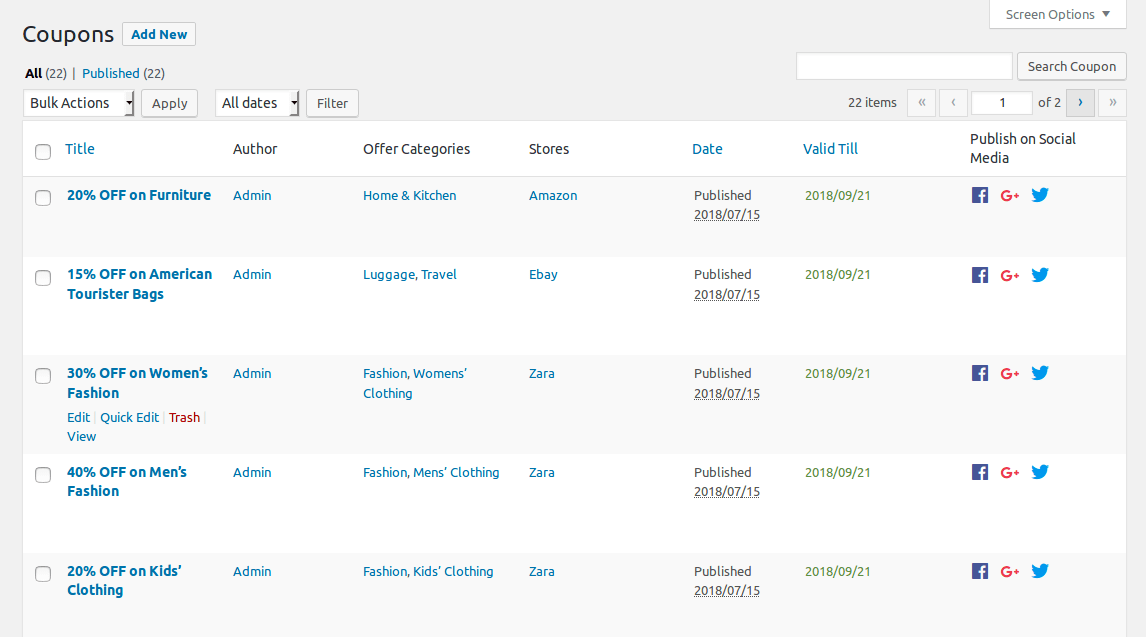 For the homepage, it carries various features like background video, banner image, impressionable slider.
You can select how you want to display coupons as with List or Grid Layouts. With ClipMyDeals, you can redeem printable coupons at a store's checkout counter. It prints with a Code-128 Barcode for faster checkout.
If you're running a website across the globe this theme has the feature called location taxonomy by which you can segregate the coupons based on the location of Countries/Cities by this your users can easily find the offer/coupon they're looking for in minutes.
ClipMyDeals is Social optimised so it comes with the latest Social Media Tags, Meta Elements and easy-to-share features. So if you like a coupon or you wish to help your friend to save as he shops just share and become the saving expert yourself.
They also have a plugin to turn this theme into a fully functional cashback website. It's a very easy tool that helps you manage transactions and gives financial reports which include user clicks, payment managing for admin and earnings report.
This Cashback plugin automatically passes your logged-in visitor's ID as Sub-ID to your affiliate program. This way you can record user-wise sales in your Affiliate Panel. It further pulls all transactions from affiliate networks & programs on a real-time basis using Postback Pixels/URLs.
So there is absolutely no restriction of the affiliate networks that you can work with. Because most of the popular networks support these features.
The coupon feed is mechanized by LinkMyDeals which is pre-integrated into ClipMyDeals. It automatically updates the latest offers on your Coupon website/App with unique titles & descriptions. So you get all the time to focus on your growth strategies.
Also, on purchase of the theme, you get a monthly subscription from CouponAPI to pull Coupons & Deals from multiple Affiliate Networks/Programs. It becomes your single API source for coupons & deals on all affiliate networks.
You just need to map your store & category names in the panel, thereby standardizing content as per your website.
ClipMyDeals has 100s of unique features which no other theme in the market has.
Some of the notable ones are:
It is the only theme extendable with Cash Back Plugin.
It comes with Lifetime Support.
It comes with Lifetime Free Updates.
It is built 100% on WordPress Standards. So it works well almost all regular
You get a Free Android App with your Website.
You get 30 days Free CouponAPI.org Coupon Feeds.
The top banner & store description feature on each store page is also unique with
this theme and extremely important for SEO purpose.
ClipMyDeals is Social Media Optimized i.e. when you share its pages on social
media, it gets shared with title, description, and image as specified in the shared coupon.