/?php the_meta(); ?>
Filmora Scrn is one of the best and very easy to use screen recording software. It allows you to record games, PC screen, webcam, and audio all at the same time and there is not a limit on the duration of a recording.
Filmora Scrn is available for Mac OS X 10.11 or later and Windows 10 / Win8 / Win7. It can record up to 120FPS. If you record games, this is perfect for recording fast-paced games. (Up to 60 fps for Mac).
With this screen recorder, you don't need to use 2 different software to record screen and webcam and another software to edit your videos. You can record yourself, screen, PC audio and Mic all at the same time.
Filmora Scrn Features
It also has a video editor which allows editing your videos quickly and easily. Once your recording is complete, you can edit in the video editing suite. You can add a lot of effects to your videos.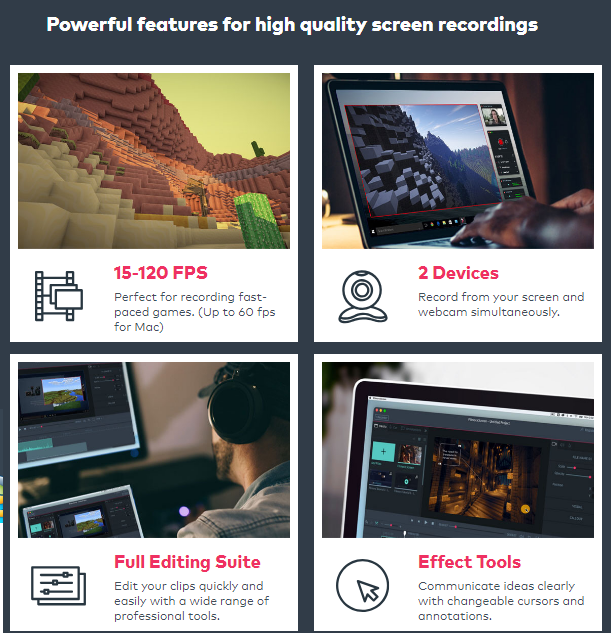 Changeable Cursor
Adjust the size, shape, and color of your cursor to make it stand out.
Full Editing Suite
Edit your clips quickly and easily with a wide range of professional tools.
2 Devices
Record from your computer and webcam simultaneously.
Import Over 50 File Formats
Import images, videos, music, and other media files.
FPS (15-120)
Perfect for recording fast-paced games. (Up to 60 fps for Mac)
Export To MP4, MOV, GIF
Export to multiple formats
PIP (Picture In Picture)
Add a second image or video to your main footage, like a facecam for gaming.
Custom Recording Field
Choose to record all, or just part of, your computer screen.
Annotations
Add text and other elements to enhance the learning experience for your viewers.
Tutorial Features
Draw circles and arrows on your screen to help direct attention.
Pricing
Filmora Screen recorder is more powerful and has more features but less expensive compared to some other screen recorders such as SnagIt.
| Recorder | Video Editor | Price | License/Updates | Platform |
| --- | --- | --- | --- | --- |
| Camtasia | Advance editor | $249 | 1 Year $49.75 | Windows/Mac |
| Snagit | Basic editor | $49.95 | 1 Year $12.49 | Windows/Mac |
| ScreenFlow | Advance editor | $129 | 1 Year $39 | Mac |
| Filmora scrn | Advance editor | $29.99 | Lifetime | Windows/Mac |
Screen Recorders Bundle Pricing
| Recorder | Video Editor | Price | License/Updates | Platform |
| --- | --- | --- | --- | --- |
| Camtasia + Snagit | Advance editor | $274 | 1 Year $54.80 | Windows/Mac |
| Filmora + Filmora Scrn | Advanced Editor | $69.98 | Lifetime | Windows/Mac |
NOTE: Filmora and Filmora Scrn are two different software. Filmora is a complete video editing software, offers a wide range of powerful video editing tools.
Filmora Scrn is a premium but very affordable screen recorder. 1-year license costs only $19.99/Year while lifetime license for 1 PC costs you only $29.99.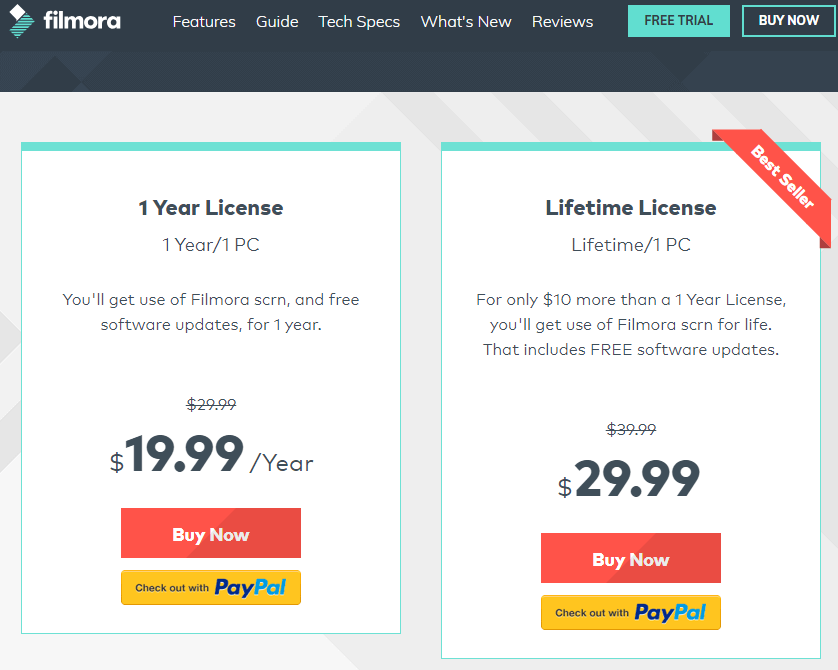 Benefits of purchasing the full version:
No watermark
Free Technical Support
30-Day Money-Back Guarantee
Filmora Scrn provides the unlimited trial period, so you can check how simple and easy to use yet very powerful software it is.
The free trial includes all of the same features as the premium version. The only limitation of the trial version is that exported videos are watermarked.
Getting Started with Filmora Scrn
Getting started with Filmora Scrn is very easy, just visit Filmora Scrn page to download the installer.
Once you will start Filmora Scrn, you will be given this simple menu with Get started, Quick Capture, and Video Editor buttons.
Clicking on the Get Started button displays the setup screen, where you can choose the best options for screen, game, audio and camera settings.
In the Screen tab you can:
Choose whether to record your full screen, a customized region of your screen, or a specific target window
Indicate whether you'll be recording a game
Choose your frame rate (anywhere from 15 to 120 fps)
In the Audio Tab, You can choose whether or not to record audio from both your computer and microphone.
In the Advanced tab you can:
Choose where to save your files to
Enable GPU acceleration
Choose whether or not to hide your controls while recording
Choose different encoder: AVC/H.264 or FastJPG
Set up hotkeys to Start/Stop/Pause/Resume recording
Filmora Scrn has a lot of Keyboard shortcuts for Recorder and timeline to make your workflow faster.
Clicking on the Quick Capture pulls up the recorder window
which allows you to choose
Change the size of your recording area through the Recorder window.
Enable/Disable/Adjust Microphone Volume
Enable/Disable Desktop audio
Click on the Red Circle to start screen recording and press F10 to stop/finish recording.
Once you've finished recording. You can start editing them. Video Editor has a very simple and elegant interface.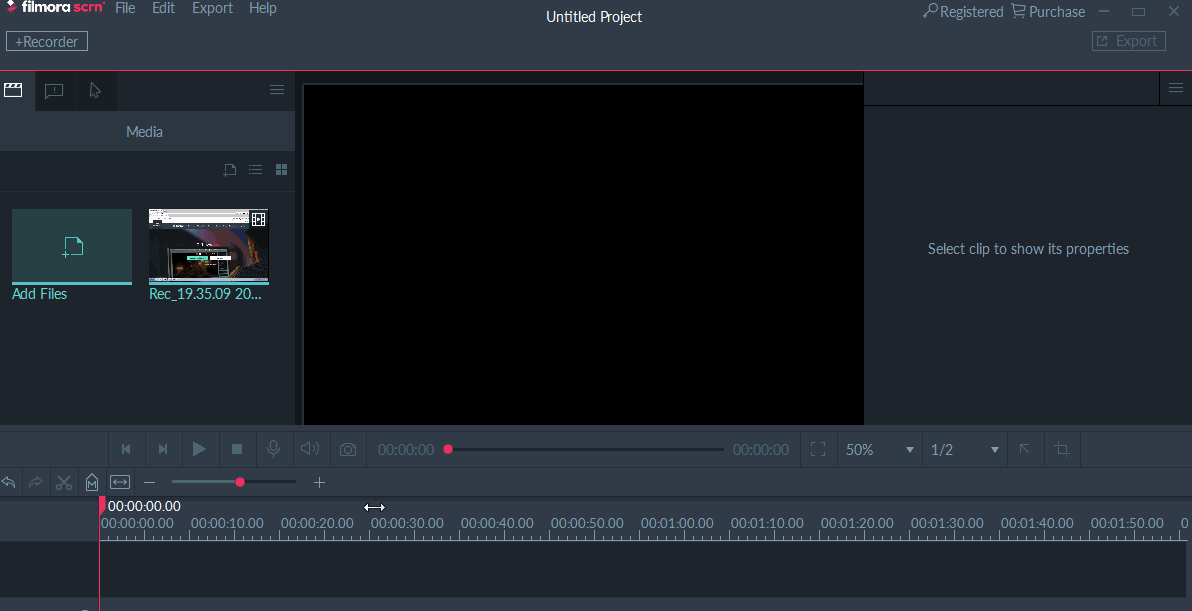 Filmora Editor has enough features to create high-quality videos. Here is a list of all the features available in the video editor.
Add Media Files to Timeline
Preview the Clips
Audio Editing
Express Export
Audio Denoise
Trim Video Clips
Resize Videos
Rotate Video Clips
Crop Video Clips
Draw a Border
Split Video
Cut Video Clips
Delete Media
Playback Resolution
SnapShot
Voice Over
Scale Videos
Add Marker
PIP (Picture in Picture) Mode
Fade in and Fade out
Record Hotkeys
Toggle Track Output and Track Lock
Time Stretch
Show the Hidden Waveform
Freeze Frame
Export
You can visit the screen recorder guide to learn about all the Filmora Scrn video editing features
Exporting Final Video
After you've finished editing your video or game recording, you can export final video as an MP4, MP3, MOV, or GIF file.
Direct Uploads: Filmora also allows you to upload your video directly to YouTube, Vimeo, Facebook, or Twitch. You will be able to name your video and choose a location to store the exported file.
You will also be able to adjust your video's resolution, frame rate, bitrate, and other settings in this Export window.
Final Words
Camtasia is the most popular premium screen recorder and I have been using it for a long time. But Camtasia is very expensive compared to Filmora Scrn.
If you want all the advanced features that Camtasia or ScreenFlow (Mac only) offers but don't have a big budget, go for Filmora + Filmora Scrn bundle, it costs only $69.98 for the lifetime for a single user.